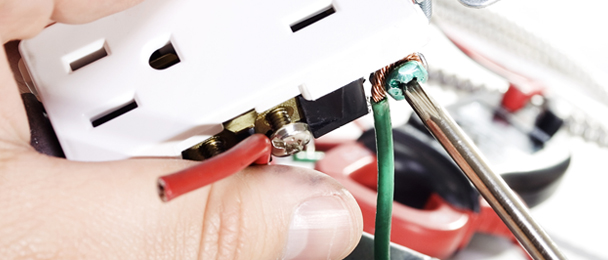 About G Evans Electrical
Time served, reliable, friendly, female electrician in Wirral!
G Evans Electrical first opened for business in 1983, and have been serving as an electrician in Wirral, Wallasey and the rest of the North West ever since. The business was started by Mr Gerald Evans, Lisa Evans' Grandad, who also started training her 23 years ago to become an electrician. Lisa has been a qualified electrician in Wirral for 10 years and now runs the family business.
Lisa started life as an electrician when she went to work with her granddad at just six years old. Now, following in her granddad's footsteps, Lisa has set up her own electrical company with her own unique approach to helping women and elderly people feel confident when looking for an electrician in Wirral.
Inspired by her granddad, Lisa pursued her passion. She took her aptitude test and managed to get on to the extremely competitive apprenticeship scheme at the Council.
Lisa has proven herself as one of the best electricians in Wirral and has entered into a hugely competitive market with about 150 electrical companies advertising in Yellow Pages alone.
A few words from Lisa:
"I knew when I was six I was going to be an electrician. Every Saturday and all throughout the holidays I helped my granddad. It didn't go down too well when I went to West Kirby Grammar school when all the other girls wanted to be doctors and lawyers and I want to be a spark!

387 people went for the one job at the council and I was the one that got the job. My granddad was chuffed to bits. I completed the apprenticeship, where I helped fix the street lighting, house maintenance, rewires, sewerage stations and completed six months at Vauxhall. Then after a stint in Manchester I came back to Wallasey five years ago. Unfortunately, my granddad became seriously ill last year and I decided that now was the time to start his business back up and make him proud.

I completed a business course which included marketing your company, accounts, legal matters and much more. It was really helpful and I've been trading for two months and the business is going really well.

Through my research, I found that women and the elderly feel more at ease and have more faith in a female electrician. I pride myself on my knowledge, time keeping, honesty, reasonable prices and the condition I leave someone's house when I have finished the job.

I can offer the same high standard of electrical work, as did my grandfather, ranging from small local projects to major national work, and everything in between. I am s smart, reliable, friendly female electrician who will do you job to the highest standard.

I can offer you a free quote, and you are under no obligation, so please feel free to contact me for more information."